In mid-August, something very exciting happened: A large number of kids, young families, and people who just enjoy doing things outside showed up to a Pacific Grove City Council meeting.
The Council was clearly enamored with a bunch of cool, sweet, thoughtful kids advocating for a place to call their own; Police Chief Madalone gave everyone a fist bump after they left the dais.
They made the trip to City Hall because one of the agenda items for the meeting had been to hear public feedback about Pacific Grove getting our own skatepark.
Spirits were high and smiles were abundant.
Then, a few weeks ago, the City held another meeting revealing their top location choices for where the park would go. George Washington Park—a preferred location of many parents/kids who have spearheaded the PG Skatepark Project—was initially rated as the best choice.
What followed were many more hours of public comment about the positives and negatives of multiple location options, compromise, and an intention for the City to do more due diligence.
I had to leave the Zoom to put kids to bed, but in the ensuing weeks debate has heated up online on Nextdoor between skatepark advocates, conservationists, and neighbors on all sides of the spectrum. At least one person has been called out by skatepark fans online for not undertaking the process in good faith, leaking (mis)information to people resistant to the idea, and generally sowing division.
On the surface, the area of GW Park—mostly mulch with less than 10 trees—poses the fewest obstacles for supporters to get a skate area built because it's on City land, not subject to Coastal Commission oversight, and zoned for recreation use (which it is not being utilized for right now).
But signs have already sprouted up throughout the City to not alter George Washington Park. Many volunteers of the park spoke at the meeting about how much time they have invested in maintaining/restoring the park and many people, in general, spoke about how much they enjoy the 20 acres of mostly pristine nature in the City. Some nearby residents also worry about the noise that the skatepark would bring.
It should be noted that George Washington Park was never designated as the skatepark location
The situation unfolding—in my opinion—is repeating a common, dispiriting cycle: Groups that have many shared interests and like-minded individuals are pitted against one other, led to believe that there can only be one "winner."
By the time the debate has ended, no one is happy but they all have a sense of futility about government.
Much like the Pit of Despair in The Princess Bride, it is a place in our public discourse that chains you down, drains your life, and makes you scream.
Or, at least that's how it feels to me.
And for the kids and parents who are behind the effort to get the skatepark built, it's a real bummer. Not because they might not get what they want, but because of the amount of anger and vitriol that has been directed their way in short time. This is the first experience for a lot of these kids to organize, get involved with the City, and participate in government. And this is how we treat them? This will be part of their memories of how change happens?
Unequivocally, I think that's pretty terrible.
As the Monterey Weekly reported, one of the organizing parents—John Haselbauer—was also berated with profanities and physically threatened at the farmer's market.
Just like I've met a ton of other PG residents over the past few months, I've gotten to know some of the skatepark supporters. John seems pretty strong, so the first thing I want to say is: bad move Angry Farmer's Market Guy. But also, like 98.9% of Pagrovians, they're great people. In fact, John and his wife Emily are actually leaving Pacific Grove next year for his last deployment—but they're still devoting a ridiculous amount of time, energy, and probably money in order to benefit the community and kids they don't even know. (The family plans on coming back to PG, but the fact that they are so committed to this is astounding to me each time I think about it.)
In the movie version of the Pit of Despair, Westley eventually escapes the thanks to Andre the Giant and Mandy Patinkin. Disappointingly, neither Andre the Giant or Mandy Patinkin are able to come to our side.
So, we're going to have to figure out how to break this cycle of resentment and bitterness by ourselves.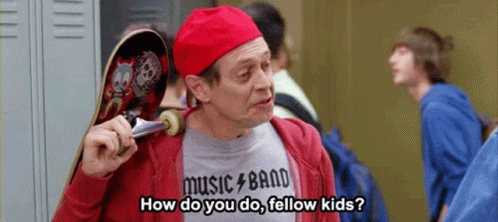 I think it'd behoove everyone to remember that no location is set. The most important things to keep in mind are that residents want to protect natural spaces and create a space for kids and adults to enjoy. They do not have to be exclusive of each other. On a vast majority of issues, I am guessing that George Washington Park and skatepark supporters are on the same page. So we should work toward common ground and progress instead of fighting each other.
Mr. Haselbauer spoke up at a City Council meeting a few days after meeting Angry Farmer's Market Guy: "We will not tolerate this behavior or belligerence towards our children. P.G. is better than this. Over my life, and the 60 different skate parks I have visited, I have never once experienced bigotry, racism or hatred like I did at our own farmers market in Pacific Grove. I know more than ever that Pacific Grove needs a park that celebrates our youth, our diversity and inclusion."
Agreed. Let's make it happen.